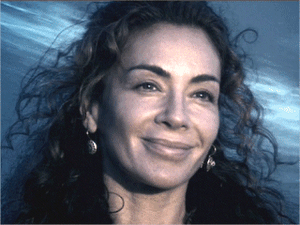 Maximus' Wife is the wife of the great Roman General Maximus Meridius. She was killed and crucified by the Roman Cavalrymen sent by Emperor Commodus to burn their farm.
She was portrayed by Giannina Facio in the 2000 film Gladiator.
The wife was a Spanish woman who one day married General Maximus Meridius of the Roman Empire. She had one son with him. They all lived in a huge farm north of Trujillo, Spain. She waited with her son to see her husband again.
After the Emperor Marcus Aurelius was overthrown and killed by his son, Commodus, he ordered that Maximus be executed. Maximus killed all four executioners and escaped. A second group of about 10 cavalrymen had been dispatched to to kill his family at his farm in Spain. The wife, son, and the servants were all killed, the former two of them being crucified. Maximus rode to the farm, only to find the scene of horror.